Following the suggestions of my professor Dr. Burton, I am returning to the basis of my research in China: George Orwell's text
1984
. This return, however, is not the traditional sense of grabbing my personal addition and again scour the pages for appropriate quotes and references. Instead, this
return
is to examine the process of Orwell himself, to explore the text beyond the publicized page. Using the advancements technology has supplied, I have
returned
the the text as Orwell worked it: his manuscripts.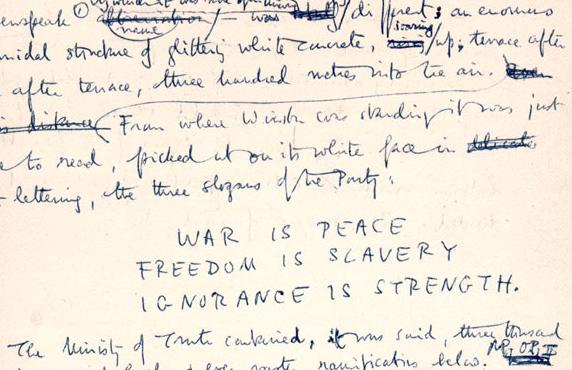 A very primal draft. One thing I find particularly interesting is Orwell's meticulous use of capped letters. In the official publication of 1984, the slogans of the party here represented--WAR IS PEACE, FREEDOM IS SLAVERY, IGNORANCE IS STRENGTH--are capitalized, expressing deserved volume. The manuscript shows that Orwell intended this detail from the beginning. He meant for the slogans to scream.



This version is more formalized than the previous manuscript, or was, I suppose, before Orwell painted it with his pen; it is the first page of the first official draft. I had never appreciated the process Orwell undertook to collect his thoughts and ultimately finalize them to produce the finished novel. This page has been absolutely torn apart; Orwell took very seriously the thoughts he transmitted to paper.
As I look at this draft in particular, I really am amazed at the process Orwell drafted, deleted, reworded, restructured, and revamped what is arguably his most poignant novel. To bring in a touch of the biographical, Orwell was suffering from the debilitating effects of tuberculosis. The years he formed
1984
were particularly difficult as he constantly battle the disease he knew was killing him. I find myself with little to say, simply overwhelmed, in a sense, to appreciate the efforts of a dying man, meticulously forming his last words.